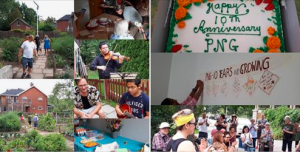 On September 21st, Parkview Neighbourhood Garden celebrated with volunteers, neighbours and community partners 10 years of building community in our neighbourhood. Our first planting day was May 23, 2009 and since then, the garden has expanded and added many new volunteers and neighbourhood supporters.
Ward 18 councillor John Filion welcomed us to the celebration. John's work with the Ontario Historical Society and neighbourhood groups was instrumental in turning a vacant city lot into a garden, and he has been a strong supporter over the years.
Read more about Our history
Small helpers decorated our sidewalk with art and inside the coach house, visitors and volunteers wrote messages reflecting on their experience with the garden. Outside, Sam and Paul provided musical background to our tours and conversations.
Thank you for celebrating with us!