With tomatillos harvested from PNG, you can make this delicious salsa recipe from Martha Stewart!
SALSA VERDE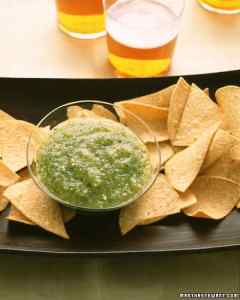 Freshly prepared salsa verde is an addictive chip dip. Tomatillos are available year-round at Latin markets and some supermarkets.
Source: MARTHA STEWART LIVING, JUNE 2005
YIELD: MAKES 4 CUPS
INGREDIENTS
– Coarse salt
– 12 tomatillos (about 2 1/4 pounds), husks removed, rinsed well
– 2 cloves garlic
– 1 1/2 ounces fresh cilantro (about 1/4 bunch), stems included
– 1 jalapeno chile, ribs and seeds discarded, flesh coarsely chopped
– 1 small white onion, finely chopped
– Freshly ground pepper
DIRECTIONS
Bring a large pot of water to a boil; add salt. Cook tomatillos until pale, about 5 minutes. Drain; cut each into 4 wedges. Puree tomatillos, garlic, cilantro, jalapeno, and onion in a food processor.
Transfer tomatillo mixture to a medium stockpot. Bring to a simmer over low heat; cook until thickened, about 15 minutes. Season with salt and pepper.
COOK'S NOTES
Salsa can be refrigerated in an airtight container, up to 1 week.