Our small band of volunteers have gone into overdrive to get the garden ready for winter this year.
Many thanks to our intrepid team of masked and gloved Fall cleanup volunteers:  Suz, Chad, Michel, Nan, Dianne, Becky, Bonnie, Janet, Sonya, Paul, Brenda, Corinne and Jarrett. Also, thank you to neighbours Steve and Jill for their grass clippings and leaves.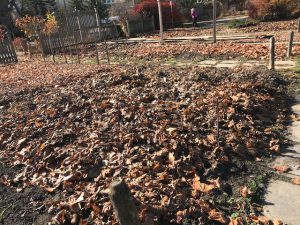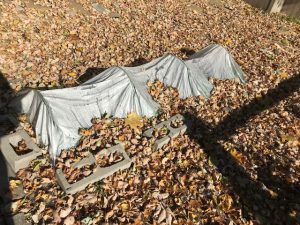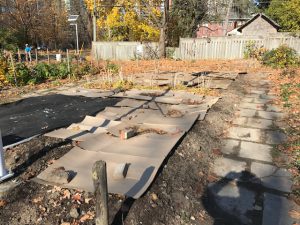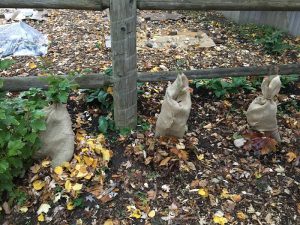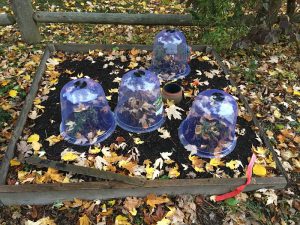 There is a surprising amount of work to do in the Fall to get ready for winter, such as:
Prune trees and shrubs and protect with burlap where appropriate.
Harvest all remaining produce and find good homes for it.
Pull vegetable plants from the ground and compost what you can.
Collect and dry seeds.
Remove and disinfect all trellises and poles and store them away for the winter.
Weed, weed, weed.
Add manure and compost to all the beds. This year we used over 300 kg of composted aged manure and 5 cubic yards of compost.
Plant vegetables that can overwinter and sprout in spring e.g. garlic, beets, carrots.
Plant new shrubs if appropriate.
Cut down asparagus fronds.
Rake leaves to make leaf mold for the following spring.
Cover the soil with mulch.  The more you cover, the more you can protect the soil from the harsh effects of winter.