By: Nan Davey
Two years ago this month, we lost a friend and loyal volunteer to cancer.  Her name was Joan Steele.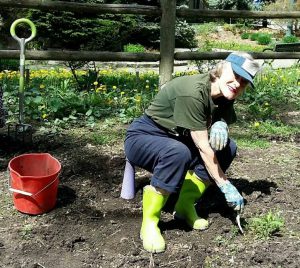 Joan was an experienced and dependable volunteer.  I first met Joan when she started coming to the weekday evening harvest/sales shift that I led.  These were busy evenings with many customers and never enough time to harvest.  The regular volunteers rarely had enough time to do anything except harvest and participate in sales.  Joan used to arrive after the flurry of early and avid customers had subsided.  She did not need any direction.  She would calmly check for garden areas that needed watering, the weediest garden beds, and whatever else required attention.  She would then just start working where things needed to be done.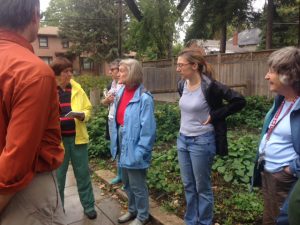 Joan often took on tasks that no one else wanted to do.  She always wanted to stick with a task until it was done – like weeding a particularly messy garden bed.  She also took on projects where there was a knowledge gap, did her research, and got the work done.  A good example of this is the raspberry patch.  It had become unruly and messy, and difficult to harvest.  Joan researched the best time and method of pruning the plants, then donned long sleeves and pants and single-handedly pruned the entire patch.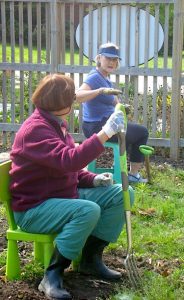 Fellow volunteer Dianne shared that Joan would often come to the garden to work on Mondays of long weekends because she loved the solitude.  She shared her knowledge with new volunteers generously.  But she did not need the presence of fellow volunteers, and would often stay after a shift was over to finish up something she was working on.
I got to know Joan on a more personal level at the YMCA.  We both liked to participate in aquafit classes.  We would often meet before class began to stretch and chat.  She was a very private person, but I did learn some things about her.  Mostly, we talked about the garden.  We would share things that bothered us, strategies about how to get things done, and even how to deal with troublesome volunteers.  We even talked about the garden in the off-season, as we concentrated on upper body strength in preparation for the season ahead.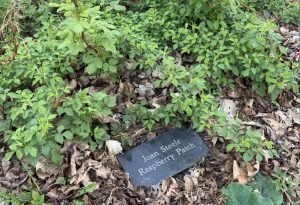 When she passed away, the leadership team discussed ways to honor her years of commitment to the garden.  We settled on a plaque in the raspberry batch, where she devoted much of her time.
Now, whenever I go to harvest raspberries or lop off a wayward branch, I think of Joan.  She is missed by all who knew her.