Jerome and Carolina are parents to 3 year old Philip. They have been regular weekly volunteers at the garden since August of 2013. Gardener Parkview interviewed them, as part of a series called
Spotlight on Volunteers.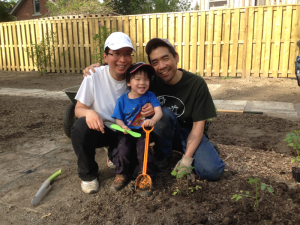 GP: What do you do at Parkview Neighbourhood Garden:
J&C: Gardening, planting, digging, composting. We do it all. Whatever is needed.
GP: What does Philip do here?
J&C: Philip digs, picks dandelions and shares his sticks.
GP: What is your background in gardening?
J&C: Hobby. No professional experience at all. We come here to learn. Carolina is a self-professed city-girl.
GP: Why did you volunteer at PNG?
J&C: It's an outdoor activity we can do as a family. We can contribute to the community through the food-related charities PNG supports. Giving, but also getting lots back.
GP: What have you learned at PNG?
J&C: Jerome: I learned how to the construct a cold frames. I helped David Peacock build the second one. How to compost. Carolina learned how to grow things successfully (that's a nice way of saying not to kill plants).
GP: What do you like best about the garden?
J&C: Interacting with the other volunteers. Mixing with a variety of ages. Doing something outside yourself. Being part of a team.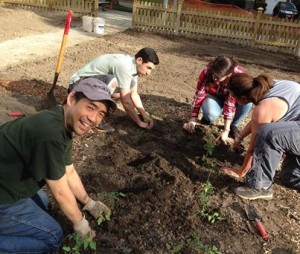 GP: What would you change?
J&C: Outreach. Let more people know the garden exists. Spread the word. We need to market more.
GP: What is your favourite crop?
Jerome: Kale, for sure it's a super food.
Carolina: Chilies. I like the hot banana chilies we grew last year.
GP: And Philip's favourite part of the garden?
J&C: Being able to run around and seeing Lynne and his pal, Alex.