By Liz Carman, PNG Volunteer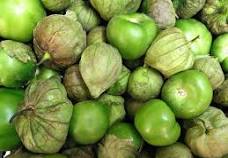 We are growing a large number of tomatillos at Parkview Neighbourhood Garden, and our volunteer Liz is a real afficianado.
She harvested and canned up some salsa verde, one of the best known uses of tomatillos (see recipe here). 
PNG has some jars available for cash donation.  Come by Tuesday evenings at 6 PM to pick up your jar!
Tomatillos are a member of the Solanaceae (nightshade) family, an incredibly important plant family for the world economy that includes potatoes, tomatoes and peppers to name but a few.
Tomatillos became the earliest known member of this plant family when scientists discovered the fossilized remains of a tomatillo in Patagonia, in 2017. Carbon dating revealed that it was then 52.2 million years old!
Tomatillos are native to Mexico and Central America, and are known to have been cultivated in the pre-Columbian era, around 300 BCE, playing an important role in the culture of Aztec and Mayan civilizations, and they're an essential ingredient in Mexican cooking today.
Although tomatillo means "little tomato" in Spanish, and they do look like small tomatoes, they're mere distant cousins. Tomatillos are actually most closely related to Cape Gooseberries (aka groundcherry, goldenberry).
Tomatillos and tomatoes grow at a similar rate, taking about 75 – 100 days to produce ripe fruit, but the tomatillos' yellow flowers first develop into papery husks that protect the tomatillos as they ripen inside them. Tomatillos are fully ripe when they completely fill their husks which will then start to turn brown and split open.
A ripe tomatillo is crunchy, like a Granny Smith apple, with a very unique tart, lemony and ever-so-slightly herby flavour. If not quite fully ripe when picked, tomatillos will continue to ripen on the counter if left in their husks. Tomatillos also keep best in the fridge if their 'jackets' are left on.
When you're ready to use them, prepare tomatillos by removing their husks. I find it helps to soak them in warm water first. Tomatillos have a sticky film over them (thought to repel insects), most of which can be rubbed off in the water before air drying the tomatillos on a tea towel.
The tomatillos are now ready to use or will freeze well for cooking later if left whole, but they do lose their bright green colour and firm texture while thawing.
Any Web search will provide a myriad of recipes for using these terrific tomatillos! A few of our family favourites are:
Avocado salsa verde
Fresh tomatillo, mango and pineapple salsa
Hot tomatillo sauce, for chicken, seafood or steamed vegetables (a fresh alternative to cauliflower cheese).
Juevos rancheros verde
Pork pozole verde
Vegetarian chilli verde
Chicken and tomatillo carnitas
I'm also keen to try making some Mexican tomatillo jam (they're very high in pectin), and tomatillo and apple crisp sounds like something to look forward to as winter approaches!
"Buen provecho!"