On June 17, 2022, we lost a member of the Parkview Neighbourhood Garden. Today, we celebrate Dianne McIntyre's life and contributions.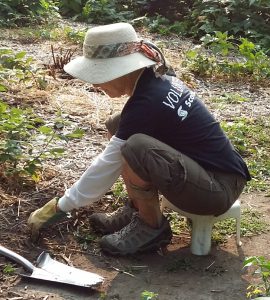 Her many loving friends will remember Dianne for her extraordinary resilience, boundless capacity to love, remarkable generosity, and unstoppable determination to laugh and love life in the face of adversity.
Dianne's compassion for animals led her to foster many cats over the years and to support her favourite charity: the Toronto Kitten Rescue. She enjoyed photography, playing softball, biking, and traveling. She also loved nature, art, and music. Her deep sense of responsibility to the community and social justice meant she was always actively engaged in giving back and helping others. Her volunteer work included Parkview Neighbourhood Garden, Hot Docs Film Festival, and Bereaved Families of Ontario.
Before she left us, Dianne said "I feel loved and blessed. It took a village."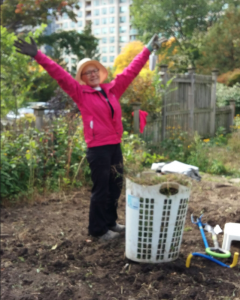 ---
Among the loved ones Dianne leaves behind are Maya, Mila, and Ana, to whom she was "Nana" and their parents Ivana and Slobodan; life-long friends Ang and Cindee, and their families, of Richmond Hill and Toronto, and Stephanie, and her family, of Montreal; and cherished friends in Quebec, the US, and Germany. There are many more of us, too, tending the garden Dianne helped to plant, and carrying the message that Dianne shared with us, as we follow her loving example in the extended village Dianne called home.
Thank you to the doctors and nurses of the Palliative Care Unit of Princess Margaret and special thanks to Dr. Joshua Tepper and Homecare Nurse Pricilla Sudeesh.
To commemorate Dianne's life, please make donations to the Princess Margaret Ovarian Cancer Research, Phillip Aziz Centre, Toronto Hospice, Toronto Kitten Rescue.