Rosemary Wood and Nan picked collard greens last week and donated them to one of the soup makers for the Drop In program at Newtonbrook United Church. They filled a green garbage bag, and there is still lots left in the garden. –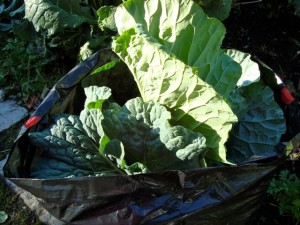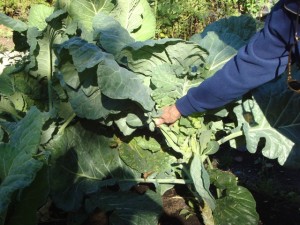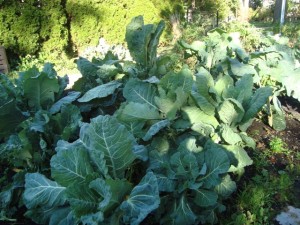 RECIPE ALERT!
COLLARDS ( from Toronto Star October 12)
2 bunches collard greens
2 tbsp (30 mL) olive oil
1/4 cup (60 mL) onion, minced
2 cloves garlic, minced
1 bird's eye chili, minced, or 1 tbsp (15 mL) chili flakes
1 tbsp (15 mL) ground cumin
1 tbsp (15 mL) ground coriander
1 tbsp (15 mL) ground mustard seed
1/2 cup (125 mL) beer, or water
juice of half a lemon
salt to taste
Trim collards by running a knife along each side of the centre stem. Remove stem and chop leaves into strips (remember, they'll shrink once they're cooked).
In large pot of salted water, boil collards for 2 minutes. Strain. Squeeze off extra liquid.
In a medium pot on medium heat, use olive oil to sauté onion, garlic and chili until soft, about 4 minutes. Add cumin, coriander and mustard seed, stir. Add collards, stir. Add beer or water and lemon juice. Lower heat and simmer until soft, about 25 minutes. Season to taste.